Amino Acids Help with Craving Control!
Those pesky cravings get in the way of our best intentions! Instead of white-knuckling through your urges, learn how to use targeted amino acids to quell even the most intense cravings for sugar and other substances.
Oftentimes, cravings are merely a symptom of low neurotransmitter systems. The chemical messengers in your brain are lacking due to stress, genetics, diet or other reasons.
Learn how to identify WHICH system is depleted and WHICH amino acid to use to help balance your brain, so you won't want to overdo the sugar (or alcohol, or processed food) again! If you're not feeling the symptom (ie, stress) you won't need to self-medicate with the substance (ie, cookies)!
Relief really may be that simple. 
If amino acid therapy doesn't work, something else likely is at play, such as gut dysbiosis like candida albicans, which is a yeast / fungal overgrowth that can cause intense cravings, or Pyroluria, a genetic condition that results in low zinc and B6, Adrenal Fatigue/High Cortisol, Methylation or other conditions. The Gut-Brain connection is powerful and impaired digestion for any reason can affect amino acid absorption. These conditions can all be tested, evaluated and addressed, if needed. I am partnered with a Functional Medicine Doctor and know which labs to recommend to dig deeper!
But first … try amino acids!
Amino Acids help with Managing Mood! 
Amino acids are fast-acting supplements that target the neurotransmitter deficiencies that are causing your symptoms like sadness, low moods, anxiety, stress, irritability, lack of focus, emotional pain, poor sleep and more.

For every bothersome symptom, there is an amino acid that can help! 
Amino acids work in 2-10 minutes and are 100% natural!
This is a proven system to identify which neurotransmitter system is depleted and which amino acid/s will bring it back into balance. Based on Julia Ross's books, The Mood Cure and The Craving Cure, and cultivated from my schooling at The Academy for Addiction and Mental Heath Nutrition,  this course includes all the information you need to understand how to use amino acids. No longer will you have a cupboard full of supplements with no clue how to use! 
NOTE:   One of the most common errors is how to dose. Most people are under-dosing themselves. Amino acid therapy is based on a trialing method where your BODY tells you what you need. You read that right. One person may need a fingertip dose and another person needs 6 x 500 mg capsules at one time!
Once you establish your dose, you use that dose until your symptoms are resolved!
Amino Acids Help with Recovery from Substance Use!
Anyone who overuses alcohol or other substances (including sugar) and wants to quit easily, quickly and permanently will benefit from this program!  An imbalanced brain is one reason why so many people wake up saying "never again" just to find themselves with wine or food in hand a few hours later. You'll be happy to hear .. It's not about willpower! Amino Acids can help correct the biochemical imbalances that cause you to self-sabotage, despite your best intentions. Not only does this help recovery but it also removes any shame associated with the habit!
Just as patients with diabetes or heart disease receive nutrition education to manage their diseases, people dealing with substance abuse need nutrition education to address their specific risk factors!
Nutrition is THE MISSING PIECE to Recovery and once you understand your neurotransmitter deficiencies and how to supplement to top off your Dopamine (Catecholamine), Serotonin, GABA or Endorphin Systems, you can very quickly get on the road to recovery! You'll also learn how to use amino acids and protein to regulate blood sugar, which can prevent relapse!
This Self-Paced, Personally Supported Course includes:

10 Modules of Instruction explaining how to determine which amino acids will work for your symptoms and cravings

2x :20-minute personal, HIPAA protected phone calls for assistance
5x personal HIPAA protected messages through the Practice Better Portal / App for questions directly to me
Nutritional Information Guides
Closed FB Group for questions, any time!
Opportunity to add on Labs through my partner resource
Opportunity to add One-on-One Calls for additional help
Fill out a questionnaire and indicate the different symptoms you're experiencing, and what you've used now or in the past to feel better.
What Can I Expect from the Course?
Cross reference your conditions or disease and medications or supplements you're taking on the precautions sheet.
Use the Amino Acid Therapy Chart to determine which neurotransmitter systems are depleted.
Select your targeted amino acids from my specific protocol recommendations
Check in with me to confirm you're on the right track! (Includes 2x  :20 minute one-on-one calls!)
Order your amino acids from my FullScript Dispensary OR purchase at any health food store (you'll get 10% off for life on any supplement in the catalog!)
Conduct my trialing process to determine your bio-individualized dose.
Take regularly and chart your progress weekly, making adjustments as you go.
Schedule your 2nd :20 minute call call to check in and confirm your dosing.
Enjoy your symptom free life!!   (Usually takes 2-12 months to completely re-balance the brain)
How long will it take to feel better? 
This is highly individualized! Some people feel better in 2 minutes!! With others, it takes a while to find the right amino acid and the right combination of amino acids.  Others can take 3 months. On average, people take amino acids from 2 - 12 months mostly because it takes a while to get the right dosing, timing and combo.  ALL DATA IS GOOD DATA!
 This course is for you if:
You

struggle with symptoms

like anxiety, low mood, irritability, lethargy, apathy, stress, sleeplessness, sadness and need to escape and other "reasons" why you use substances or behaviors to make yourself feel better

You

want to quit drinking and/or sugar

but can't seem to string together more than a few days without going back to old habits (and you feel you have tried everything!)

You struggle with

cravings

for alcohol, sugar or other substances and want to be free once and for all!

You have a cupboard full of amino acid supplements and have

no idea

what to do with them

You are

not

taking pharmaceutical medication

You do

not

have serious mental illness or other serious health conditions including bipolar, schizophrenic or other mood disorders as well as liver, kidney disease, any cancer or ulcers.

You are

not

in acute detox and/or physically dependent on alcohol or any drugs
NOTE: This course is NOT for you if you have ANY serious medical or mental condition, cancer, if you're on more than one SSRI, are suicidal,  have lupus or liver or kidney disease.   Please contact me and book my ONE ON ONE PACKAGE instead.
Note: This is an INTRODUCTORY price and will likely go up soon. Don't hesitate!
UNSURE? Book a  FREE DISCOVERY CALL to discuss options! 
Disclaimer: I am not a doctor and don't diagnose, cure or treat any disease.  Please always check with your MD if you are alcohol or drug dependent. Severe life threatening symptoms can occur from sudden withdrawal. are currently in acute detox, are still actively using excessive alcohol or drugs and haven't had any days off for weeks or longer, using extensive prescription medication, have severe mental illness, have or are in remission from cancer.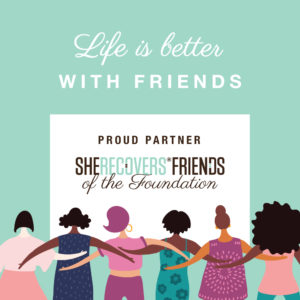 Proud partner of She Recovers ® Friends of the Foundation.
For each program purchased I will donate 5% to this amazing organization that helps empower women to recover from behavioral health issues and other life challenges. More information about She Recovers ® and their Intentions and Guiding Principles can be found HERE.